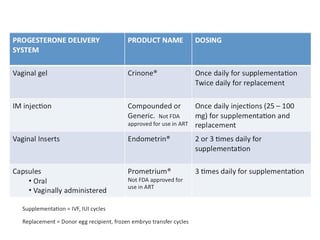 I have written previously on the role of progesterone (P) and the various methods of administering P. Historically, during the early days of IVF, P was administered exclusively via intramuscular (IM) injections. These involved a long needle that was used to deliver the medication in the buttocks.
Also, P only dissolves in oil (peanut, olive, ethyl-oleate etc) and repeated injections were painful and sometimes resulted in sterile abscesses. Patients also had allergic reactions to the oil. This was a nightmare for patients as these daily injections were sometimes continued for 8 – 10 weeks!
At that time, this was the only type of P that was available. All this changed about 1977 when Soules et al. first reported on the use of vaginal P. Over the past decade several studies have confirmed that the vaginal route indeed works and the pregnancy rates are comparable with those attained with IM injections.
Here are the Top 10 facts about vaginal P and assisted reproductive technologies (ART).
1) First uterine pass effect. When P is administered vaginally, it interacts with the vaginal epithelium. Subsequently, P in the vagina is continuously released; allowing controlled and sustained transfer to the uterus. Very little P is absorbed into the blood stream. When compared to IM P, the blood levels with vaginal P are 6 times lower, but the levels in the uterine lining were 2.4 times higher with the vaginal route. This preferential delivery of vaginal P to the uterus is called the "first uterine pass effect". This finding implies that blood levels do not reflect the efficacy of vaginal P treatment. This is the reason why we do not measure progesterone levels on patients taking vaginal P.
2) Several studies have now shown that in in vitro fertilization (IVF) cycles, the pregnancy rates with vaginal P were similar to those achieved with IM P.
3) A large study (225 patients) from Boston IVF recently confirmed that in donor egg recipient cycles, pregnancy outcomes were similar with vaginal P and IM P.
4) There are several vaginal preparations that are available. These include Crinone 8% gel, Endometrin vaginal inserts and Prometrium capsules. Of these, Crinone and Endometrin only, are approved by the FDA for progesterone supplementation.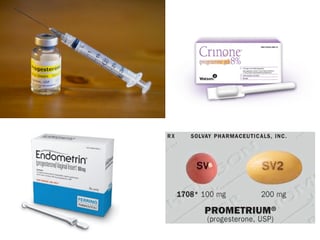 5) Crinone is the only vaginal P approved for use in replacement cycles (donor egg recipient, frozen embryo transfer cycles). Crinone is to be used twice daily in replacement cycles.
6) Prometrium capsules 200 mg three times daily (marketed as Uterogestan in Europe) is commonly used in Europe for P supplementation. It is not approved by the FDA for progesterone supplementation or replacement.
7) In one of the largest IVF studies of its kind, Doody et al. showed similar pregnancy rates with Crinone gel once daily, Endometrin twice daily or Endometrin three times daily.
8) Bleeding (quite often it is just spotting) before your pregnancy test result is common with both vaginal and IM P. Yanushpolsky et al. showed that this bleeding did not affect pregnancy rates or outcomes. It is important to continue taking the progesterone till the pregnancy test result is back.
9) Vaginal clumping and discharge is often experienced with vaginal P. This is usually considered a minor annoyance in comparison to taking deep oily IM P injections! Other side effects include breast enlargement, sleepiness, constipation and nausea.
10) Several surveys have shown that by wide margin patients prefer vaginal P to IM P. Currently 60% of IVF cycles in the U.S. are with vaginal P and the number is increasing.
Progesterone is a hormone that is necessary for pregnancy. At InVia Fertility Specialists we have been using vaginal P for more than a decade. Now you can see why!
To see a fertility specialist who is a board-certified physician with excellent success rates, make an appointment at one of InVia's four Chicago area fertility clinics.