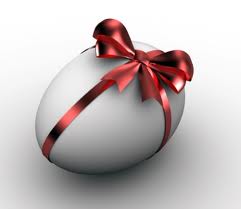 This post is from an anonymous egg donor who responded to a comment on the blog. I liked it so much that I am posting it as a separate post.
I would also like to take this opportunity to thank her and all the generous souls who donate their eggs!
Here is her response:
"I was reading through comments, and I saw someone say that young donors are desperate. I agree this is really unfair. In May (when I was 21 years old) I decided to be an egg donor. My motivation was not money, but the fact that I hope to be an infertility specialist in the future and decided that I could start to help women sooner than when I graduate from medical school.
Initially I was willing to do it for free, but this isn't an option (you are allowed to opt to take lower compensation). There is a lot more work that goes into it than just one doctor's appointment. There are a lot of tests, time, blood tests, injections, and for myself, an hour and a half drive. The process timeline is specific and demanding.
I also had a lot of other classmates, future OB/GYN, who donated truly to help. Their intentions were to help people directly and indirectly. We would directly help the recipient and the money received went to medical school tuition to help others in the future. I met a lot of other people through visits that all had great intentions and motivations.
All the donors have excellent records and wonderful accomplishments (at least at my office, this information is provided to the family), everyone had to successfully complete their college degree. Don't be so fast to group all donors into one category. There is a group of us out here who aspire to help women with conception for the rest of our lives, and donation was our first step to doing this."