Thanh Ha Luu, MD, earned her medical degree from the Rush University Medical College in Chicago. She completed her residency in Obstetrics and Gynecology at the Cleveland Clinic and her fellowship in Reproductive Endocrinology and Infertility at the University of Colorado.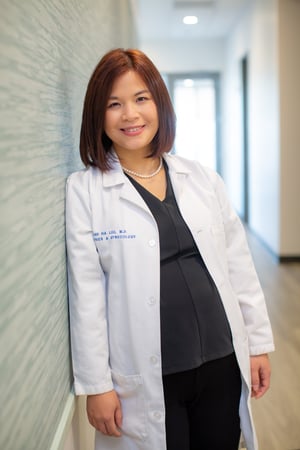 Dr. Luu is board certified in obstetrics and gynecology and board certified in reproductive endocrinology and infertility. She is passionate about fertility preservation in patients at risk of infertility and improving access to care for all patients needing infertility services. She has been an active member of RESOLVE and has helped to lobby for insurance coverage for infertility for residents in Colorado during her fellowship.
As a physician researcher, Dr. Luu has authored several peer reviewed publications on endometriosis and on her translational research in obesity and infertility and ovarian immunology. Her research was honored as one of the top 10 abstracts at the Pacific Coast Reproductive Society meeting in 2020.
In addition to her research, Dr. Luu is also committed to providing excellent patient care. As someone who has experienced infertility herself and has gone through the process of IVF, Dr. Luu feels that she shares a unique connection with patients going through this process. Her experiences have enriched her clinical practice and has informed her about the importance of clear communication, compassionate care, and engaging patients to get to best outcomes.
Dr. Luu notes three distinct reasons that solidified her plans to join Invia Fertility. First, the excellent clinical care that Invia provides, including the amazing teamwork between the physicians, nurses, and laboratory impressed her. Second, Invia's success rates are among the best in the country, demonstrating the excellent laboratory and clinical care she saw from the team. And lastly, the many scholarship and research activities that Invia's current physicians participate in was extremely attractive as someone who is committed to evidence-based medicine herself.
Dr. Luu is originally from Vietnam and has lived and travel to many places. She has made Chicago her home since 2007, when she worked at Northwestern University helping patients and conducting research on patient navigation in cancer care. She is excited to return to Chicago to join her large group of family and friends. In her free time, Dr. Luu enjoys traveling and is looking forward to enjoying more of these activities as the COVID pandemic restrictions allow. She is also an avid eater and is most excited enjoying in wonderful Chicago dining scene, COVID pandemic restrictions withstanding. You can learn more by viewing her full curriculum vitae.