Working alongside our experienced team of fertility experts is an equally experienced team of technicians. From your first blood test to embryo transfer, they are here to support you with their clinical knowledge and caring approach to treatment.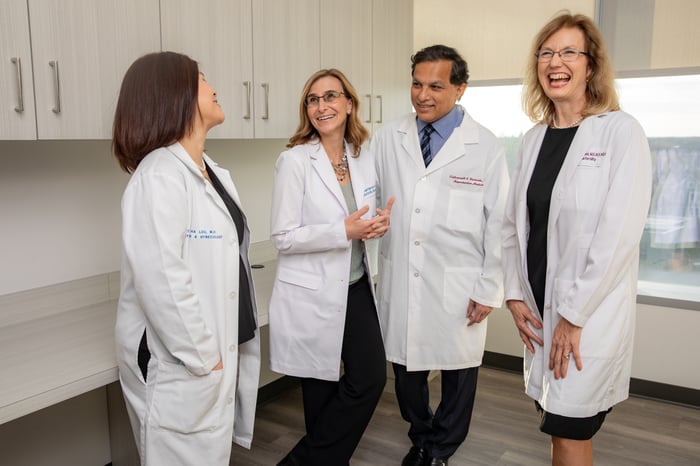 All of our technicians and nurses regularly attend professional development experiences in the field of fertility treatment, to ensure you receive the best possible care on your pathway to pregnancy.
InVia Fertility Embryology Team
The expert embryologists in our Assisted Reproduction Technologies (ART) Laboratory at InVia Fertility Specialists are all members of the American Society for Reproductive Medicine (ASRM). They bring extensive experience with the following technologies to your treatment with us:
IVF
Embryo culture
Assisted zona hatching
Intracytoplasmic sperm injection (ICSI)
Preimplantation genetic diagnosis (PGD)
Our embryology technicians actively engage in research and development designed to improve pregnancy success, and work closely with our medical team to develop a treatment plan that meets your individual needs.
InVia Fertility Nursing Team
At InVia Fertility Specialists, our nurses work as a team. They are cross-trained in all areas of the practice while also maintaining a primary specialty. All are trained and certified in Advanced Cardiac Life Support (ACLS), and hold numerous other certifications ranging from Advanced Fetal Monitoring to basic cardiac arrhythmias.
In addition to assisting with your care, our nurses are ready to act as resources to answer your general medical questions, and help you locate more information when you want it. Many of our nurses are active members of ASRM and its Nurses in Reproductive Medicine Professional Group.
In addition, they attend professional development symposia and the annual ASRM convention. Our nurses have presented reports and posters at past events to help share findings and advance the field of infertility nursing.
They also understand the demands infertility treatment can place on you, bringing a blend of compassion and advanced knowledge to your experience with us.
Ultrasound and Laboratory Technicians
Ultrasound monitoring and laboratory blood tests are routine—but crucial—aspects of your fertility treatment. InVia Fertility Specialists chooses ultrasound and laboratory team members who are highly qualified and certified in their areas of expertise, and who have demonstrated experience working with infertility patients. As with all our staff, our ultrasound and lab techs are dedicated to ensuring you receive the best quality care possible.
Learn More about Fertility Treatment
Our caring, highly-qualified technicians are here to help you achieve your dream of pregnancy. Download our free e-book to learn more about the IVF treatment process, or schedule an appointment online today!