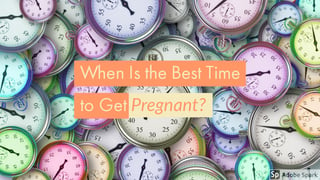 Many couples who are trying to get pregnant think that the more sex they have, the better.The truth is that there is only a small window each month during which a woman can become pregnant.
This time is called the "fertile window," and it corresponds to the three days leading up to ovulation. Once an egg is released, it only lives for 12 to 24 hours. But not to worry, as sperm can live for several days. The trick is to have sperm "waiting" for the egg to drop.
What is important is to time sex to this fertile window, because this is the best time to get pregnant. Having sex at other times of the month will not help or harm your chances of becoming pregnant.
The trick to success is accurately predicting the fertile window. You can identify your fertile window with this easy-to-use fertility calendar app. But for those times when you're not at your computer, here's how to figure it out:
In general, women are most fertile in the few days leading to ovulation. However, not all women know exactly when they ovulate. Typically, ovulation occurs fourteen days before menstrual bleeding starts. But without a crystal ball, how do you know that you are going to get a period in two weeks? There are some good ways to take the guesswork out of getting pregnant.
Some women have clockwork regular cycles. In these women, predicting the fertile window is easier. For example, if a woman has a 28-day cycle, she should expect to ovulate around day 14 of her cycle (day one is the first day of full flow menstrual bleeding). In a 28-day cycle, days 11-13 are the most fertile days. For women with a 30-day cycle, days 13-15 are the most fertile. For women with shorter cycles, they may be fertile as early as the day they stop bleeding.
Most women do not have cycles that are exactly the same length every month. The best way to predict the fertile window is to track your cycles for several months.
Here is a simple formula to help you figure out when to best time sex in order to maximize your chance of conception.
TAKE THE LENGTH OF THE LONGEST CYCLE AND SUBTRACT 14 FROM IT. THEN TAKE THE LENGTH OF THE SHORTEST CYCLE AND SUBTRACT 17 FROM IT. THE TWO NUMBERS THAT RESULT ARE YOUR FERTILE WINDOW.
For example, if your longest cycle is 35 days and your shortest cycle is 24 days, you would subtract 14 from 35, resulting in 21. You would then subtract 17 from 24 resulting in 7. Your fertile window is between days 7 and 21. You should time sex every one to two days during this fertile window.
Another way to look at this:
LONGEST CYCLE – 14 = ?
SHORTEST CYCLE -17 = ?
Take the two numbers that result. Your fertile window is between these two days of the cycle.
Once you do the math, it takes much of the guesswork out of it. Using this system, you do not need to spend time or money on ovulation predictor kits. These kits don't work for everyone and are often frustrating for couples. Use the fertility formula and you will be well on your way to getting pregnant.